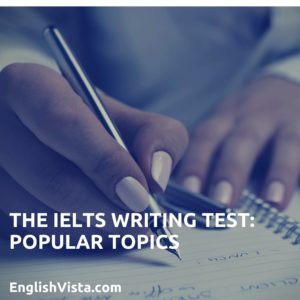 Once you understand the different types of writing tasks in the Writing Task 2 test, it is vital for you to understand the kinds of topics you may be asked to write about.
Below is a list of topics that have appeared in IELTS tests around the world in 2019.
You may be asked to write about any one of these or a related topic. Therefore, you are strongly advised to practice writing about a range of these issues ahead of the exam.
Social Issues
Luxury brands
Housing
Spending money
Mental health and wellbeing
Happiness
Prison
Eating in/out
Social class
Voluntary work
Migration
Shopping
Computer games
Money
Crime
Obesity
Technological advances
Violence in videos/computer games
Wealth gap
Media and communication
Retirement age
Work conditions
Environment
Environmental issues
Carbon footprint (people and food)
Environmental responsibility
"Throwaway society"
Packaging of products
Pollution
Traffic
City planning
Energy use
Waste
Cultural Issues
Museums and historical sites
Weddings
Gender issues
Public holidays
Gift giving
International Issues
Food demand
Tourism
Population age
Migration
Education
School start age
Wealth and education
Academic vs practical skills
Family
Parental restrictions
Parental responsibility
Teenagers
Parenting
Nature vs nurture
Importance of family
Business
Online training
Skills vs knowledge
Online communication tools
Working from home
Science
Forms of energy
Natural world
Health
Sports
Sponsorship
Exercise
Skills and ability
Physical vs mental strength
Men's vs women's sport
Olympic games