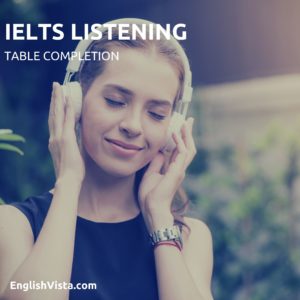 Listening Practice 5
Table Completion
In this practice exercise, we will focus on listening for specific information. Table completion tasks are common in IELTS listening tests and, if you have completed the reading practice tests, you will already be familiar with this type of task.
In order to listen for the correct information in the audio recording, be sure to read through the question first. From this, you should be able to work out what type of information you are looking for, e.g. a price, a time etc.
Questions
Listen to the audio clip and fill in the blanks in the table with the opening times of these attractions.
| | | |
| --- | --- | --- |
| | Opening Times: Weekdays | Opening Times: Weekends |
| Spaceport | 10am – 3pm | 1.     __________________ |
| Museum of Liverpool | 2.     __________________ | 3.     __________________ |
Audio Clip
Listen to the audio file by clicking on the play button:
Transcript
Liverpool has attractions littered throughout the city and more museums and galleries than any other UK city outside of the capital. Each attraction is leading in its own right, but there seem to be a few 'big hitters' that everyone wants to know about.
Take an inspirational journey through space and science at Spaceport. On the ground floor there's a variety of out-of-this-world exhibitions that make learning about our galaxy – and beyond – heaps of fun. You'll also find the Interactive Zone, full of hands-on exhibits that explain the role of gravity and light in space. Get to grips with optical illusions and visual tricks in our 'See the Light' exhibits.
Spaceport is open Monday to Friday from 10am until 3pm. Closing time is later on Saturdays and Sundays at 5pm.
The Museum of Liverpool is the world's first national museum devoted to the history of a regional city and it is the largest newly-built national museum in Britain for more than a century. More than 6,000 objects bring Liverpool's incredible heritage to life, celebrating thousands of years of the city's achievements.
Exhibits include Ben Johnson's Liverpool Cityscape, a life-size Liverbird and Chris Boardman's famous Lotus sport bike.
The museum is open daily from 9am – 5pm.
Text adapted from: https://www.visitliverpool.com/things-to-do
ANSWERS
10am – 5pm
9am – 5pm
9am – 5pm