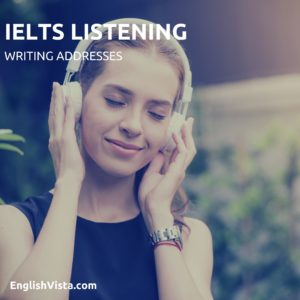 Listening Practice 4 
Writing Addresses
In this practice exercise, we will focus on writing addresses. This is a common task in the IELTS listening test. Before we start the exercise, there are some important things for you to know about addresses given in English and some other top tips.
Addresses will be formatted like this:
Number           Name of Road               Type of Road
2. The number in the address could be given in different forms:
a. Just a number, e.g.             2
b. A number and letter, e.g.  2A
c. A flat number, e.g.              Flat 2
3. There are different words to describe different types of roads in English. Becoming familiar with these will help you in this type of exercise in the test – and it will also help you to build up your bank of English vocabulary. See the different types of roads in the list below.
4. Any words that are considered difficult to spell or more unusual words will be spelt out for you on the recording. Otherwise, you will need to use your knowledge of the English language to spell the addresses correctly!
Types of Roads
Here is a list of the types of roads most commonly used in English addresses.
Street
Lane
Road
Way
Avenue
Crescent
Square
Boulevard
Drive
Park
Listen to the audio clip below and copy down the addresses. And remember: to get a mark for a correct answer, the address must be spelt correctly!!!
Question:
Listen to the audio clip and write out the 10 addresses below.
Audio Clip
Listen to the audio file by clicking on the play button:
____________________________________________________________________
____________________________________________________________________
____________________________________________________________________
____________________________________________________________________
____________________________________________________________________
____________________________________________________________________
____________________________________________________________________
____________________________________________________________________
____________________________________________________________________
____________________________________________________________________
ANSWERS
13 SECOND STREET
1A BOWRINGTON LANE
FLAT 41 CHURCH ROAD
104 SOUTH AVENUE
22 BRIDGE WAY
41C HOPEWELL SQUARE
3 STANLEY CRESCENT
FLAT 3 61 HEARD WAY
2 WESTSIDE PARK
117 STATTON LANE